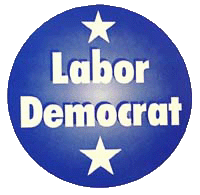 Statement of Principles:
Since all honest work is honorable and should be treated with dignity and respect ...

We support the principle of economic justice and believe it can best be accomplished by raising the minimum wage to a living wage standard;

We are dedicated to the goal of a classless society that leaves no part of our State's labor force without the benefits of healthcare, sick leave and workplaces free from hazard;
We pledge an end to all forms of workplace discrimination;

Likewise, we support pay equity and equal opportunity for all regardless of race, color, creed, gender, national or ethnic origin, ancestry, or sexual orientation;

And as we continue to seek ways to provide better and more efficient public services to the people of Hawai'i, we pledge not to compromise the principle that government money, coming from the taxes of all of us, shall not be used to depress the wages or standard of living of the working men and women in our service;

We recognize the substantial contributions by organized labor to the improvement of the social, political, and economic well-being of Hawai'i's people and, therefore, honor as a fundamental right of all Hawai'i's workers, the right to organize unions; to bargain collectively over wages, hours and working conditions; and to participate freely in the political process;

We choose to associate together as individuals who are dedicated to building both the Labor Movement and the Democratic Party.
WE ARE THEREFORE RESOLVED:

To do everything possible to encourage the working men and women of Hawai'i to register to vote, and then to actually vote in all primary, general and special elections;
To help educate the elected leadership within the Democratic Party and the state legislature on the core values Labor Democrats and the impact of political issues and public policies on the lives and well-being of the working men and women of Hawai'i;
To encourage participation in the organization of the Democratic Party and the expanded use of grassroots/community organizing activities at all levels from the precincts to the State Policy Committee;
To recruit and support candidates for public office who come from the labor movement and who are truly committed to represent the interests, values, and perspectives of employees;
To establish a Labor Committee in each of the four County Committees and a statewide labor caucus in the State Party.
---
If you support these principles and goals, we hope you will join us. You need to be a registered Democrat and willing to work with us to improve our Party, our Government and the lives of Workers in Hawai'i.
The State Labor Caucus :

We invite you to attend the Caucus meetings and to invite others who are interested in supporting labor in Hawai'i.
Click here to Join the Caucus